The Collaboratory for Teacher Education at Penn GSE is a laboratory for the design, implementation, and study of experimental approaches to teacher education.
Guided by our commitments to diversity and equity, developing core practices, and the power of inquiry in teacher development, we collaborate with educators, schools, districts, and researchers to create opportunities for teacher and teacher educator development.
The Collaboratory is home to several teacher education programs at Penn GSE, which provide multiple pathways to excellence in teaching. It is also a growing hub of resources for teachers, teacher educators, and teacher education researchers.
person_pin
Teacher Education Programs
Become a certified teacher and earn an M.S.Ed.in one of our teacher education programs.
Become a Teacher
trending_up
Ongoing Teacher Development
Continue to learn as a teacher through professional development and add-on certificates, certifications, and specializations.
Professional Learning
lightbulb_outline
Research on Teacher Education
Access the research of our faculty and staff or collaborate with us to examine our innovative approaches to teacher education.
Learn About Research
"

Teachers represent the most important school-based factor impacting student success. Through the work of the Collaboratory, Penn GSE is committed to developing new and more effective models for preparing transformative teachers to serve our nation's school children."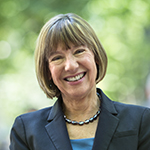 Professor Pam Grossman
Internationally Renowned
Expert on Teacher Education